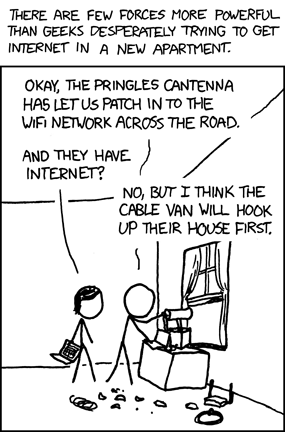 So long, crapartment! We won't miss you a bit!
The deal is closed! Nic's picking up the key right now, and we are home owners!!
Tonite is part 1 of the move — moving our meager temporary possession into our house. A big thanks to Brad, John, Danielle, and Jen for helping with part 1! We're camping out in the new place tonite, not because its ready, but because we are!
Part 2 is tomorrow morning — when we're finally reunited with our stuff, and will no longer have to sit on lawn chairs in our living room. We'll have our own appliances, some nice new "grown up" dishes, and a real bed to sleep on. Thanks to Nic's parent's for storing almost all our earthly possessions for the summer, and for helping us get moved in. I'd thank the movers too, but the butt load of money we have to pay them is thanks enough.
Pictures to follow, and then, with Phase 3 over, life begins again! The new website theme is live — refresh if you can't see it… I like to think of it as a monument to the miracle of having survived the summer. The finger print will be replaced by a handprint from one of the kids — just as soon as I unpack the scanner!